social-media
Nov 7, 2021
0
---
In this post we will be talking about some of the tactics that can be used to manage your social media presence.
We'll show some examples of free services that you can use to speed up the management of social media, suggest sources that you can get content from and leave you with some thoughts about engaging your followers.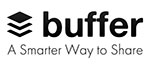 Firstly, we will be looking at Buffer. Buffer enables you to post simultaneously to all of your social media accounts. For example you could post to Facebook, Twitter and Google + with one click.
Posts can be scheduled, so you can have posts set to release over the weekend or during holiday periods.
In addition to this, Buffer has an analytics section so you can see which posts perform best, and a handy image creation tool called Pablo. Pablo contains over 600,000 images that can be used for free, a text editor to overlay text, filters and resizing tools.
The standard version of Buffer is free to use, check out the Buffer website for more information.

Bloglovin' allows you to gather together content from all of your favourite blogs, such as Gizmodo, Engadget and Arstechnica. You can set categories of stories that you would like Bloglovin' to search for, or use the 'Explore' tab to see all of the currently popular posts.
Another feature is 'Activate', which enables you to monetize your influence or register as a brand or agency.
The standard version is free to use, find out more on the Bloglovin' website.
What to post and when
Post regularly! We aim for a minimum of one post per day through Buffer, which is then reposted on our Facebook, Twitter and Google + accounts. We also aim to post at around 12 – 1pm, as this seems to be the peak traffic period for our social media. Posting regularly helps to keep your brand visible and in your customers minds.
Post content on a variety of subjects, not just ones relating to your business. The aim is to engage with your audience, and if you can achieve that by starting a discussion on a recent film or news story then it's fair game. You can also achieve this engagement by asking questions, like the one I'll end this post on…
Do you have any tips for improving your social media visibility? Answer in the comments below, or come and say hello on Facebook at https://www.facebook.com/Mobo Host/ or Twitter at @mobohost!